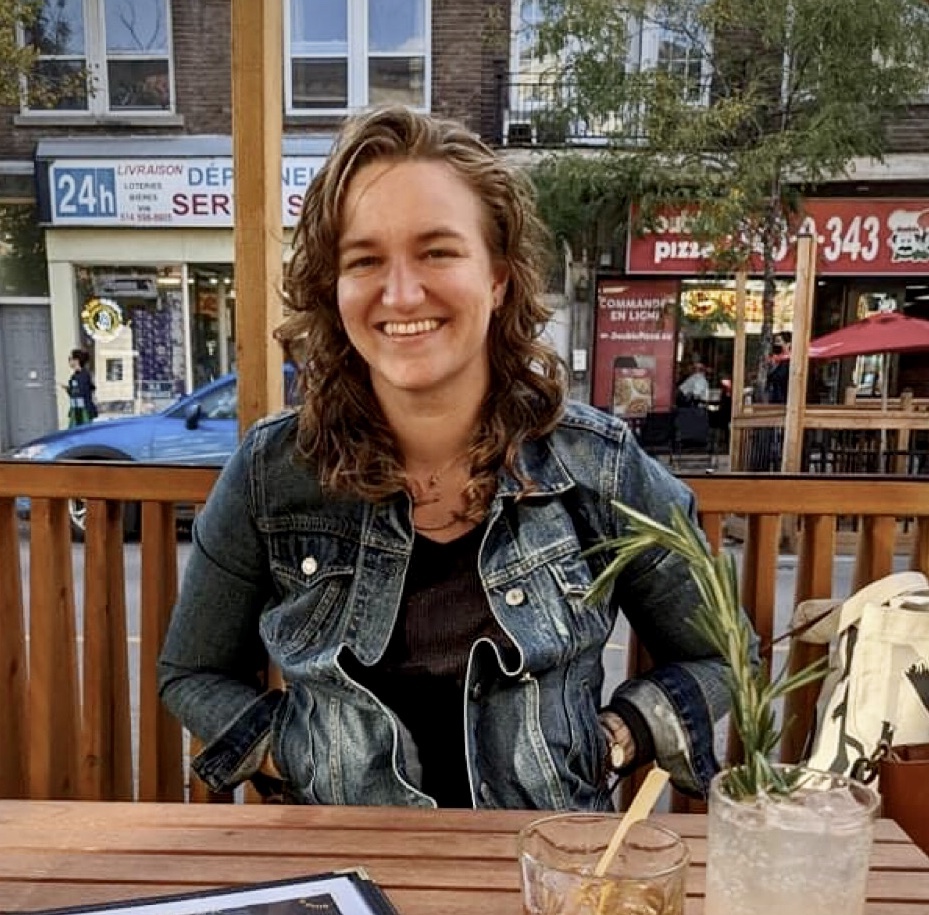 Caitlin did her Ph.D in the Mandl lab studying the link between immune cell migration and T cell effector differentiation. She was exploring the role of cell migration in inflammasome activation and its impact on the host response to infection. As a side project, she has traveled to southern China to sample blood from wild bats to determine gene expression profiles of bat immune cells in response to innate immune receptor ligands. In her spare time she enjoys drinking Old Fashioneds and amateur cat photography, often simultaneously.
Ph.D, Microbiology & Immunology, McGill University, Canada
M.Sc., Neurodevelopmental biology, Smith College, USA
B.A., Neuroscience, Wellesley College, USA 
2020-2021  F.C. Harrison Fellowship
2020 Meetings d'Immunologie Montreal 'People's Choice' Oral Presentation Award
2019-2020  Samuel L. Lupovitch Fellowship
2019-2020  Schnabel Memorial Graduate Award
2019  Wares Family Graduate Travel Award
2019  Meetings d'Immunologie Montreal Abstract Award
2019  Graduate Excellence Fellowship
2019  F.C. Harrison Fellowship
2019  Graduate Research Day 1st Place Oral Presentation
2018  Tuition Assistance Fellowship
2018  Max E. Binz Faculty of Medicine Studentship
2017  Differential Fee Waiver for International Students
2017  Recruitment Fellowship
2017  Max E. Binz Faculty of Medicine Studentship
2017  Graduate Mobility Award for field work in China
2017  Canadian Society for Immunology Annual Meeting 2nd Place Poster Award
2016  McGill University Graduate Excellence Fellowship
2016 Meetings d'Immunologie Montreal Best Trainee Talk
2015  Society for Developmental Biology Travel Award
2014-2015  Wilens/Santasiero Fellowship in the Biological Sciences
2013-2015  Smith College Graduate Student Fellowship
Rogers, D., Aditi, S., Wang, H., van Beek, J.J.P., Rademaker, T.J., Artusa, P., Schneider, C., Shen, C., Wong, D.C., Lebel, M., Condotta, S.A., Richer, M.J., Martins, A.J., Tsang, J.S., Barreiro, L., Francois, P., Langlai, D., Melichar, H.J., Textor, J., Mandl, J.N. (2021) "Pre-existing chromatin accessibility and gene expression differences among naïve CD4+ T cells influence effector potential." Cell Reports 30;37(9).
Schnabl, J., Litz, M.P.H., Schneider, C., Penkoff-Lidbeck, N., Bashiruddin, S., Schwartz, M.S., Alligood, K., and Barresi, M.J. "Characterizing the diverse cells that associate with the developing commissures of the zebrafish forebrain." Developmental Neurobiology, doi: 10.1002/dneu.22801 (online ahead of print).
Schneider, C., Shen, C., Gopal, A.A., Douglas, T., Forestell, B., Kauffman, K.D., Rogers, D., Artusa, P., Zhang, Q., Jing, H., Freeman, A.F., Barber, D.L., King, I.L., Saleh, M., Wiseman, P.W., Su, H.C., Mandl, J.N. (2020) "Migration-induced cell shattering due to DOCK8-deficiency causes a type-2 biased helper T cell response." Nature Immunology 21:1528-1539.
Mandl, J.N., Schneider, C., Schneider, D.S., and Baker, M.L. (2018) "Going to bat(s) for studies of disease tolerance." Frontiers in Immunology 9:2112.
Johnson K., Barragan J., Bashiruddin S., Smith C.J., Tyrrell C., Parsons M.J., Doris R., Kucenas S., Downes G.B., Velez C.M., Schneider C., Sakai C., Pathak N., Anderson K., Stein R., Devoto S.H., Mumm J.S., Barresi M.J. (2016) "Gfap-positive radial glial cells are an essential progenitor population for later-born neurons and glia in the zebrafish spinal cord." Glia 64(7):1170-1189