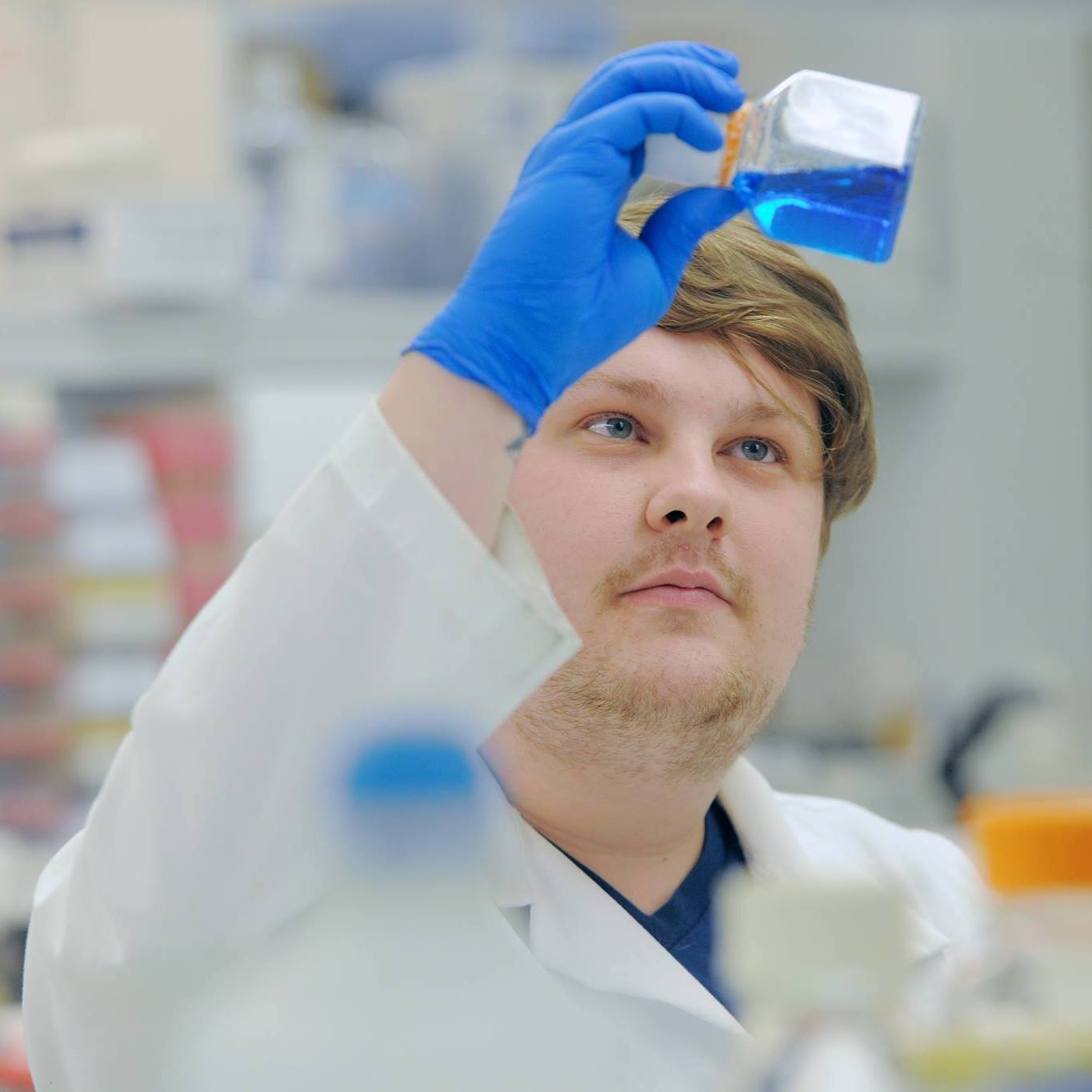 Dakota is a Ph.D. candidate studying heterogeneity within the naïve CD4 T cell population. He is looking to understand if we can use this heterogeneity to predict what kind of effector a CD4 T cell will become upon encountering its foreign antigen. Dakota recently completed his stint as the Secretary-General of the Post-Graduate Students' Society of McGill which represents all graduate students at the university politically, academically, and socially. When Dakota is not in the lab performing adoptive transfers of cells or crunching through ATACseq or RNAseq analyses (which he would argue is never) or promoting student interests, he is often being tormented by his two cats (which love him very much, or at least he likes to believe that).
B.Sc., Honours and Co-op Microbiology and Immunology, Dalhousie University, NS
supervisor: Dr. Jean Marshall
1. CIHR - Frederick Banting and Charles Best Canada Graduate Scholarships Doctoral Awards (2019-2022)
2. Fonds de recherche du Québec - Santé - Doctoral Training Scholarship (Declined)
3. Canadian Society for Immunology Travel Award (2019)
4. 1st prize PhD Poster Presentation – Canadian Society for Immunology 2019 Conference (2019)
5. Montreal Immunology Meetings - The American Association of Immunologists Young Investigator Award (2018)
6. STEMCELL's 2018 CSI Travel Award (2018)
7. Physiology Graduate Research Enhancement and Travel Award (Declined)
8. MRCCT 2018 Symposium Best Poster Presentation PhD Category (2018)
9. Montreal Immunology Meetings Trainee Travel Award (2018)
10. Richard H. Tomlinson Doctoral Fellowship (2016-2019)
11. Max Stern Recruitment Award (Declined)
12. Microbiology and Immunology Honours Prize (2016)
13. NSERC Undergraduate Student Research Award (2016)
14. Beatrice Hunter Cancer Research Institute Studentship (2015)
15. NSERC Undergraduate Student Research Award (2015)
16. Canadian Breast Cancer Foundation Studentship (2014)
17. Ross Stewart Smith Scholarship (2013)
18. J & W Murphy Renewable Scholarship (2012-2016)
Rogers, D., Aditi, S., Wang, H., van Beek, J.J.P., Rademaker, T.J., Artusa, P., Schneider, C., Shen, C., Wong, D.C., Lebel, M., Condotta, S.A., Richer, M.J., Martins, A.J., Tsang, J.S., Barreiro, L., Francois, P., Langlai, D., Melichar, H.J., Textor, J., Mandl, J.N. (2021) "Pre-existing chromatin accessibility and gene expression differences among naïve CD4+ T cells influence effector potential." Cell Reports 30;37(9).
Schneider, C., Shen, C., Gopal, A.A., Douglas, T., Forestell, B., Kauffman, K.D., Rogers, D., Artusa, P., Zhang, Q., Jing, H., Freeman, A.F., Barber, D.L., King, I.L., Saleh, M., Wiseman, P.W., Su, H.C., Mandl, J.N. (2020) "Migration-induced cell shattering due to DOCK8-deficiency causes a type-2 biased helper T cell response." Nature Immunology 21:1528-1539.
Rogers D., Vila-Leahey A., Pessôa A.C., Oldford S., Marignani P.A., Marshall J.S. (2018) Ranitidine inhibition of breast tumor growth is B cell dependent and associated with an enhanced antitumor antibody response. Frontiers in Immunology 9:1894
Vila-Leahey A., Rogers D., Marshall J.S. (2016) The impact of ranitidine on monocyte responses in the context of solid tumors. Oncotarget 7(10):10891-10904